news
Einstein Behavioral Healthcare Network and the Freda Kraftsow Sacks Family Resource Center present Suicide: The Ripple Effect.

The following information is provided by Einstein Behavioral Healthcare Network and the Freda Kraftsow Sacks Family Resource Center. The film screening of Suicide: The Ripple Effect will be held on Tuesday, November 27, 2018.

The event is open to the public, free admission, free depression screenings and more.

Download this event's flyer for more details.
‍
Pennsylvania Office of Mental Health and Substance Abuse Services releases competencies for psychiatrists working with families

As developed by the Family Committee of the Pennsylvania Psychiatric Leadership Council (PPLC), the Pennsylvania Office of Mental Health and Substance Abuse Services has posted the competencies for psychiatrists working with families.

With increasing recognition and acceptance of the benefits of family inclusion in the recovery of individuals who have mental health and co-occurring disorders, OMHSAS supports the document created by the PA Psychiatric Leadership Council "Family Inclusion Competencies for Practicing Psychiatrists". OMHSAS has determined that family inclusion is consistent with the recovery principals and will have positive effects as family and significant person's inclusion in treatment and services are implemented in the community.

View the competencies for psychiatrists working with families.
‍
Einstein Adult Crisis Response Center (CRC) is moving

Einstein Adult Crisis Response Center (CRC) is moving to a new location effective Wednesday, October 17, 2018 at 8 am.

New Address:
‍5501 Old York Road
Philadelphia, PA 19141

Phone Number (remains the same): 215-951-8300

‍Note: Individuals arriving for CRC intervention must enter through the emergency room for triage. The emergency room is located at the back of the main hospital tower facing Old York Road.
‍

CMS announces 2019 Medicare Parts A & B premiums and deductibles

Today, the Centers for Medicare & Medicaid Services (CMS) announced the 2019 premiums, deductibles, and coinsurance amounts for Medicare Parts A and B.

"CMS is committed to empowering beneficiaries with the information they need to make informed decisions about their healthcare," said CMS Administrator Seema Verma.  "In addition to the information we recently released for Medicare Advantage, the program through which private plans provide Medicare benefits, today we are releasing information for fee-for-service Medicare, so enrollees understand their options for receiving Medicare benefits."

As announced earlier this month, CMS launched the eMedicare Initiative that aims to modernize the way beneficiaries get information about Medicare and create new ways to help them make the best decisions for themselves and their families. Ahead of Medicare Open Enrollment – which begins on October 15, 2018 and ends December 7, 2018 – CMS is making improvements the Medicare.gov website to help beneficiaries compare options and decide if Original Medicare or Medicare Advantage is right for them. Among the tools released as part of the eMedicare Initiative is a stand-alone, mobile optimized out of pocket cost calculator that will provide information on both overall costs and prescription drug costs.

‍Medicare Part B Premiums/Deductibles
‍Medicare Part B covers physician services, outpatient hospital services, certain home health services, durable medical equipment, and certain other medical and health services not covered by Medicare Part A.  The standard monthly premium for Medicare Part B enrollees will be $135.50 for 2019, a slight increase from $134 in 2018. An estimated 2 million Medicare beneficiaries (about 3.5 percent) will pay less than the full Part B standard monthly premium amount in 2019 due to the statutory hold harmless provision, which limits certain beneficiaries' increase in their Part B premium to be no greater than the increase in their Social Security benefits.CMS also announced that the annual deductible for Medicare Part B beneficiaries is $185 in 2019, an increase from $183 in 2018.

‍Medicare Part A Premiums/Deductibles
‍Medicare Part A covers inpatient hospital, skilled nursing facility, and some home health care services. About 99 percent of Medicare beneficiaries do not have a Part A premium since they have at least 40 quarters of Medicare-covered employment.The Medicare Part A inpatient deductible that beneficiaries will pay when admitted to the hospital is $1,364 in 2019, an increase of $24 from $1,340 in 2018.

‍Medicare Advantage Premiums
‍Medicare beneficiaries can choose to enroll in fee-for-service Medicare (Parts A and B) or can select a private Medicare Advantage plan to receive their Medicare benefits. Premiums and deductibles for Medicare Advantage and Medicare Prescription Drug plans are already finalized and are unaffected by this announcement. Last month, CMS released the benefit, premium, and cost sharing information for Medicare Advantage plans in 2019. On average, Medicare Advantage premiums will decline while plan choices and new benefits increase. On average, Medicare Advantage premiums in 2019 are estimated to decrease by six percent to $28, from an average of $29.81 in 2018.For a fact sheet on the 2019 Medicare Parts A & B premiums and deductibles, please visit: https://www.cms.gov/newsroom/fact-sheets/2019-medicare-parts-b-premiums-and-deductibles. For more information on the 2019 Medicare Parts A and B premiums and deductibles (CMS-8068-N, CMS-8069-N, CMS-8070-N), please visit https://www.federalregister.gov/public-inspection.

‍

Delayed penalty relief for medicare enrollees

The U.S. Centers for Medicare and Medicaid Services (CMS) has issued a one-year extension of its current policy, which offers penalty relief and enrollment assistance to individuals who delayed Medicare enrollment while receiving coverage through the federal health insurance marketplace that was established under the Affordable Care Act.

This policy, known as time-limited equitable relief, helps some Medicare beneficiaries correct problems with their Part B enrollment that result from confusion or misinformation regarding Medicare and the marketplace. Under this relief, Medicare-eligible individuals with marketplace coverage can apply to enroll in Part B without penalty, and those who have already transitioned to Medicare can request that any Part B late enrollment penalties be reduced or eliminated. According to a statement, CMS is working toward a permanent fix that will ensure that those affected can access this relief at any time in the future.

View the complete questions and answers in .pdf format.
‍

Pennsylvania Department of Banking and Securities

Education and outreach staff from the Pennsylvania Department of Banking and Securities will be meeting with senior citizens and the public throughout Southeast Pennsylvania in September to promote financial capability as part of Gov. Tom Wolf's Consumer Financial Protection Initiative.

The department's outreach staff will participate in two events in Philadelphia:
‍
Information and Educational Fair at Bright Hope Baptist Church, 12th Street and Cecil B. Moore Ave., on Saturday, Sept. 22 from 10 a.m. to 1 p.m.
"Reverse Mortgages – What Borrowers Need to Know," a presentation to help senior citizens and their families better understand this complicated mortgage product, at Mt. Carmel Baptist Church, 5730 Race Street on Sept. 27 from 12:30-3 p.m.
The department's Investor Education and Consumer Outreach staff works with state and local government agencies, service providers, community and trade organizations, the General Assembly, the military community, schools, and other partners to help Pennsylvanians across the commonwealth become well-informed about the financial marketplace. There are a variety of free, non-commercial programs and presentations available, or a program can be tailored to a specific group's needs.

Download the full schedule of presentations being offered statewide.
‍

CMS announces new model to address impact of the opioid crisis for children

Today, the Centers for Medicare & Medicaid Services (CMS) announced a new Innovation Center payment and service delivery model as part of a multi-pronged strategy to combat the nation's opioid crisis. The Integrated Care for Kids (InCK) Model aims to reduce expenditures and improve the quality of care for children under 21 years of age covered by Medicaid and the Children's Health Insurance Program (CHIP)through prevention, early identification, and treatment of behavioral and physical health needs. The model will empower states and local providers to better address these needs through care integration across all types of healthcare providers.

Download the complete press release.
‍

SCHOOL-BASED SERVICES from The Department of Behavioral Health and Intellectual disAbility Services

The Department of Behavioral Health and Intellectual disAbility Services (DBHIDS), in partnership with the School District of Philadelphia, provides comprehensive prevention, early intervention and behavioral health treatment services through a broad provider network.

Our children's services and supports for schools are grounded in System of Care principles including keeping our children and youth in their own homes, with their own family, in their own community, and in their preferred educational setting. We aim to partner these services and supports with appropriate additional supports in the educational setting to assure the best opportunity for a successful academic experience, high school graduation, and future life opportunity.
‍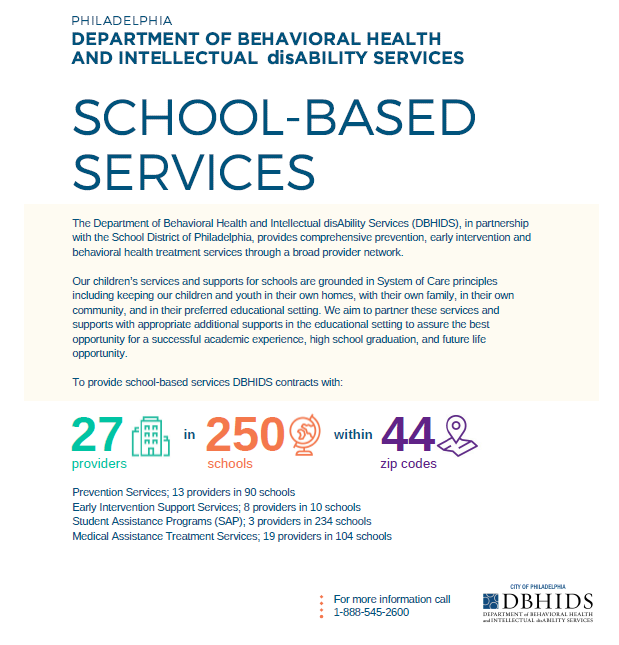 Download the DBHIDS flyer for complete information
‍

SAVE THE DATE: CMS Philadelphia Regional Office National Training Program Day – 2018 Medicare Updates

Date: Wednesday, September 26, 2018          
‍Time: 8:30 am to 4:00 pm
‍Location: Ben Franklin Room (Suites 9101, 9102) and Suite 9103                  
‍801 Market Street, 9th Floor, Philadelphia, PA 19107

The Philadelphia Regional Office of the Centers for Medicare and Medicaid Services (CMS) invites you for a day-long training. This is a great opportunity to advance your knowledge and skills to best assist Medicare beneficiaries, in preparation for the upcoming Medicare Open Enrollment Period, which is October 15 to December 7, 2018.  

We hope you will take advantage of this day as this is an excellent opportunity to connect with partners, CMS leadership and staff! Topics to include: Medicare C & D updates and other CMS program updates. (subject to change).  

‍Mark your calendar for September 26th  Come prepared to share and learn –registration details and agenda will follow soon!!
‍
SafeTogether -  a program for Parents with a Mental Health Condition

The 1st cohort of SafeTogether starts September 6th – they have hired staff, developed curricula and conducted training with the Substance Abuse and Mental Health Services Administration and Bringing Recovery Supports to Scale Technical Assistance Center Strategy, formulated the evaluation strategy and designed measurement instruments with Upenn's Center for Mental Health Policy and Services Research, and set locations, daycare, meals, transportation, and incentives.

This program will be held at Northeast Treatment Center, 499 N 5th St, Philadelphia, PA 19123

Download the flyer for this program.

Find out more information about the SafeTogether program.
‍
The Healthcare Navigation Program

The Healthcare Navigation Program is a free program for Medicare beneficiaries to help them coordinate their health care, connect them and their caregivers with resources, and provide support to better understand the health care system. The program, which is administered by the Quality Improvement Organization Program, can help beneficiaries with more complex needs who may have concerns about the quality of their care or what care is needed. Aging network professionals are encouraged to share information about this program with seniors; caregivers; and Medicare education, State Health Insurance Assistance Program (SHIP) (known as Apprise in Pennsylvania) and case management staff.

Download the related .pdf documents:

Frequently Asked Questions (FAQ) for Medicare Beneficiaries

Educational Resources for Beneficiary and Family Centered Care National Coordinating Center Initiatives
‍


New Medicare cards to beneficiaries in Delaware, DC, Maryland, Pennsylvania,Virginia and West Virginia​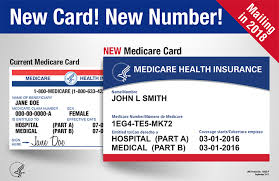 CMS announced the mailing of new Medicare cards to beneficiaries in Delaware, DC, Maryland, Pennsylvania, Virginia and West Virginia. Beneficiaries and other stakeholders will continue to be directed to important mailing information on Medicare.gov and MyMedicare.gov. CMS is also providing new beneficiary and stakeholder resources.
To view updates, beneficiary and stakeholder resources, visit:
The Outreach & education page:  
https://www.cms.gov/Medicare/New-Medicare-Card/Outreach-and-Education/Outreach-and-education.html 

For overall info/materials for providers/partners/stakeholders: 
https://www.cms.gov/medicare/new-medicare-card/nmc-home.html