news
SAVE THE DATE: CMS Philadelphia Regional Office National Training Program Day – 2018 Medicare Updates

Date: Wednesday, September 26, 2018          
‍Time: 8:30 am to 4:00 pm
‍Location: Ben Franklin Room (Suites 9101, 9102) and Suite 9103                  
‍801 Market Street, 9th Floor, Philadelphia, PA 19107

The Philadelphia Regional Office of the Centers for Medicare and Medicaid Services (CMS) invites you for a day-long training. This is a great opportunity to advance your knowledge and skills to best assist Medicare beneficiaries, in preparation for the upcoming Medicare Open Enrollment Period, which is October 15 to December 7, 2018.  

We hope you will take advantage of this day as this is an excellent opportunity to connect with partners, CMS leadership and staff! Topics to include: Medicare C & D updates and other CMS program updates. (subject to change).  

‍Mark your calendar for September 26th  Come prepared to share and learn –registration details and agenda will follow soon!!
‍
SafeTogether -  a program for Parents with a Mental Health Condition

The 1st cohort of SafeTogether starts September 6th – they have hired staff, developed curricula and conducted training with the Substance Abuse and Mental Health Services Administration and Bringing Recovery Supports to Scale Technical Assistance Center Strategy, formulated the evaluation strategy and designed measurement instruments with Upenn's Center for Mental Health Policy and Services Research, and set locations, daycare, meals, transportation, and incentives.

This program will be held at Northeast Treatment Center, 499 N 5th St, Philadelphia, PA 19123

Download the flyer for this program.

Find out more information about the SafeTogether program.
‍
The Healthcare Navigation Program

The Healthcare Navigation Program is a free program for Medicare beneficiaries to help them coordinate their health care, connect them and their caregivers with resources, and provide support to better understand the health care system. The program, which is administered by the Quality Improvement Organization Program, can help beneficiaries with more complex needs who may have concerns about the quality of their care or what care is needed. Aging network professionals are encouraged to share information about this program with seniors; caregivers; and Medicare education, State Health Insurance Assistance Program (SHIP) (known as Apprise in Pennsylvania) and case management staff.

Download the related .pdf documents:

Frequently Asked Questions (FAQ) for Medicare Beneficiaries

Educational Resources for Beneficiary and Family Centered Care National Coordinating Center Initiatives
‍


New Medicare cards to beneficiaries in Delaware, DC, Maryland, Pennsylvania,Virginia and West Virginia​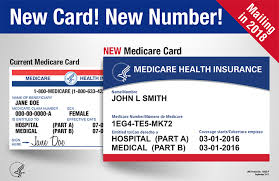 CMS announced the mailing of new Medicare cards to beneficiaries in Delaware, DC, Maryland, Pennsylvania, Virginia and West Virginia. Beneficiaries and other stakeholders will continue to be directed to important mailing information on Medicare.gov and MyMedicare.gov. CMS is also providing new beneficiary and stakeholder resources.
To view updates, beneficiary and stakeholder resources, visit:
The Outreach & education page:  
https://www.cms.gov/Medicare/New-Medicare-Card/Outreach-and-Education/Outreach-and-education.html 

For overall info/materials for providers/partners/stakeholders: 
https://www.cms.gov/medicare/new-medicare-card/nmc-home.html